Video Wall
About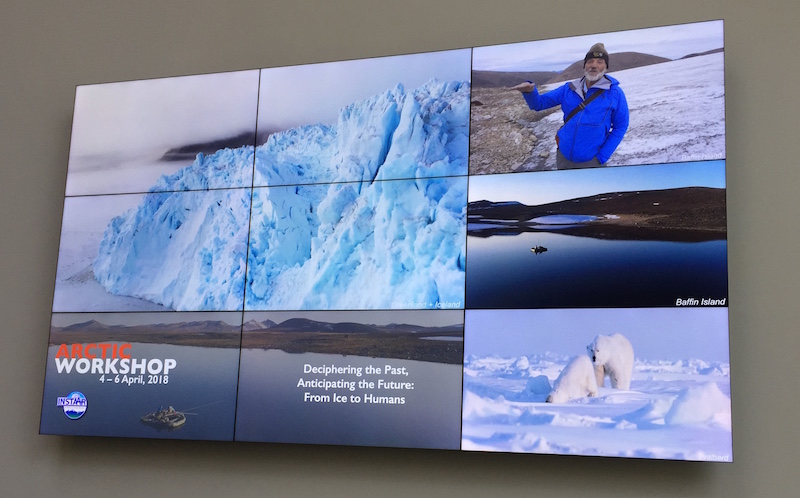 The SEEC video wall, located in the south atrium, is made up of nine 55-inch 1080p (aka Full HD, 1920x1080) displays arranged in 3x3 format. The resulting screen (canvas) is 165-inches in 16:9 format (aspect ratio approximately 1.78:1). The canvas is 5760 pixels wide by 3240 pixels high, this equates to a native 6K UHD resolution.
Content is configured and delivered to the video wall using Matrox MuraControl for Windows video wall management software. A single layout can be displayed at a time. Layouts contain windows and windows contain sources. The software treats the video wall as a single screen, just like the screen for your computer. Windows can be positioned anywhere, they can overlap, and they can be cropped. Sources and layouts can be scheduled to cycle at set intervals.
The video wall is administered and programmed by SEEC administrative staff. The wall is meant to be a resource for all SEEC partners in supporting and fulfilling the SEEC vision. Please contact SEEC staff if you have content you would like to display, suggestions for content, event use or any other video wall related inquiries.
SEEC staff cannot create your content. We can advise on best practices, but we only create and managed the layouts. All requests are subject to approval and feasibility.
Download Video Wall Capabilities & Best Practices
SOS Explorer™ (SOSx)
SOS Explorer™ (SOSx) is a flat screen version of the widely popular Science On a Sphere® (SOS). The revolutionary software takes SOS datasets, usually only seen on a 6-foot sphere in large museum spaces, and makes them more accessible. Animated images such as atmospheric storms, climate change, and ocean temperature can be shown in SOSx, which explains sometimes complex environmental processes in a way that is simultaneously intuitive and captivating.
SEEC has licensed SOSx from NOAA. Presented in the dual screen set-up, the interactive visualizations are displayed on the touchscreen and also mirrored on the video wall for others to view. Colorbars, labels, and text boxes are shown on the video wall only, while the search window and other user interfaces show up only on the touchscreen. The result is an exhibit that can be controlled by one person and enjoyed by many.
Learn more about SOSx here!
Video Listing
Not all of the videos we display on the wall are available online, but many of them are. Below you will find links to the videos that have been displayed or are currently being displayed on the SEEC video wall.
Arctic Sea Ice, Variability and Climate
The heartbeat of the arctic is changing, and the polar regions interact with and influence climate all over the world. Join Jen Kay, University of Colorado Boulder assistant professor of atmospheric and oceanic sciences and fellow for the Cooperative Institute for Research in Environmental Sciences, for a look at climate modeling, climate change, and what you can do about climate change.
Running time: 5m 21s
Baffin Island: 2017 Field Season
Orijin Media
www.orijinmedia.com
Running time: 3m 01s
Disappearing Ice Caps - Giff Miller on Baffin Island
https://www.youtube.com/watch?v=B2hbesz-Npk
Giff Miller, geologist and paleoclimatologist, walks the margins of melting glaciers on rugged Baffin Island, Nunavut, Canada. He and his team are looking for dead plants emerging from the ice. Buried since the beginning of the last ice age, they hold direct evidence of past climates. Film by Matthew Kennedy of Earth Vision Trust.
Running time: 4m 29s
Ghosts of the Arctic
Untitled Film Works
www.untitledfilmworks.com.au
Ghosts of the Arctic was the type of passion project that dreams are made of. Our goal was to venture out into the beautiful frozen expanse of Svalbard, in winter, to search and document polar bears.
Running time: 6m 34s
In Search of Honey Bloom
An ecologist recounts her experiences and scientific findings from a 20-year restoration experiment in California's vernal pools. Learn what Sharon Collinge and her team (collingelab.com) have uncovered about these magical ecosystems, the environmental processes on which they depend, and their future in a rapidly changing world.
Impact Media Lab (impactmedialab.com) produced this film, in collaboration with Forget Me Not Media (fmnmedia.com).
Running time: 8m 40s
MENV Student Capstone Project with The Nature Conservancy
https://www.youtube.com/watch?v=-2SV0T3CPgQ
Masters of the Environment Graduate Program at University of Colorado Boulder - Student Capstone Project with The Nature Conservancy, 2017.
Running time: 2m 30s
More than Scientists: Jim White, INSTAAR
Inside the Greenhouse
Running time: 2m 51s
The Ice Cave
The Arctic Arts Project - Kerry Koepping
www.arcticartsproject.com
The Vatnajokull "Crystal Cave" shown is this video, as seen in February of 2015, has retreated more than 100 meters in one years time. Volcanic sediment in this cave has been documented at 1300 years old. As anticipated, this cave does not exist as it did in the winter of 2015. As of February 2016 the glacier has now retreated more than 120 meters, year over year.
Running time: 2m 41s