Bus Service
Stampede Route
CU Boulder Transportation Services is working with RTD in an effort to improve bus service between the Main and East campuses, with changes coming to two routes beginning Aug. 27. These changes are intended to tailor routes specifically and individually to the Discovery Drive and Marine Street areas of East Campus.
RTD's Stampede route is being shortened to provide improved and dedicated service to the Discovery Drive portion of East Campus and eliminate the need for the CU-run Discovery Express, which will cease service on Friday, Aug. 24. Resources from the Discovery Express will be reallocated to create a new Marine Street Express bus that provides direct service between Marine Street and Main Campus.
Beginning, Monday, Aug. 27, RTD's Monday-through-Friday Stampede bus route will no longer serve the Marine Street area of East Campus, and will instead run on a constant loop between the Sustainability, Energy and Environment Community (SEEC) and the University Memorial Center (UMC).
Service frequency will be every 10 minutes from 7 a.m. to 5:30 p.m. and every 15 minutes from 5:30 p.m. to 8:30 p.m.
Frequency around the major class start times of 9 a.m., 10 a.m., 2 p.m., and 3 p.m. will increase to every 5 minutes.
The Stampede will have layovers only at each end of the route, eliminating the mid-trip layover that currently occurs at the Jennie Smoly Caruthers Biotechnology Building and adding to the efficiency of the route for those who board at SEEC.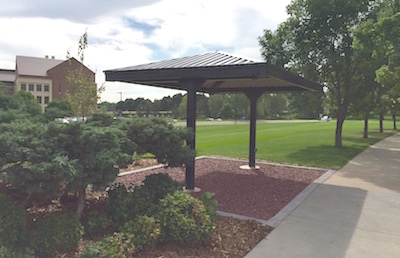 SEEC Bus Stop
Stampede Route Map