Hello from CU Green Labs
Our goal is to use a team approach to minimize the use of energy, water, material goods, and chemicals in CU Boulder Laboratories.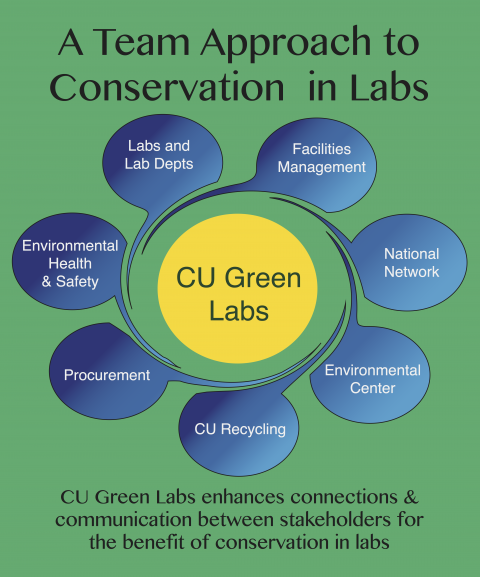 To learn more, visit our website and take a tour.


Some items that may be of particular interest in SEEC and SEEL:
Financial incentives for labs on a case by case basis to help purchase energy and water efficient equipment. We have already helped labs at SEEC/SEEL with refrigerators, ULT freezers, and waterless condensers.



Buff Surplus is a website tool to help facilitate the exchange and re-use of surplus property between campus departments.



Recycling and waste diversion:



Learn more about solvent recycling available on campus.


Metal lab container recycling in the loading dock of SEEL Room 196.


Brown glass bottles: Some labs at SEEL are working together to re-use brown glass bottles for hazardous waste collections. If you would like more details please contact us.


Block foam, plastic film, pipette tip boxes & conicals: Recycling can be found in the loading dock of SEEC Room C184 or in SEEL Rooms 196, 289, and 389. There, on each door, are specific directions for recycling white block foam, plastic film, pipette tip boxes, conicals, metal lab containers, and cardboard.


Foam peanut reuse & battery recycling are only available in SEEC Room C184.